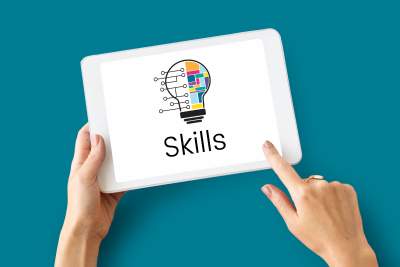 Four Digital Skills The Youth Can Develop Today
Education equips young people with the means to pursue their professional aspirations, especially as more students learn to optimize technology in this digital age. However, a World Economic Forum report on India's youth explains that although the number of older children in school is higher than ever, the country continues to contend with a significant digital skills gap. In fact, a report from the National Sample Survey Organization (NSSO) states that an underwhelming 5% of young people are recognised as formally skilled. 
Apart from this, yet another challenge prevalent in India's education system is the digital divide between boys and girls. A survey conducted in 10 different states by the organizations Catalyzing Change and the Digital Empowerment Foundation reveals that only 41% of female students have access to a mobile device. Thankfully, government initiatives are being developed to expand internet access and enhance digital literacy. In doing so, India can provide better educational outcomes for the youth and sharpen their digital expertiseDeepalaya, a not-for-profit organization in India, is committed to bridge the educational divide since 1979. The Organization continues to contribute to overcoming illiteracy by providing educational interventions to Children and Youth to bridging the existing educational and digital divide. One such project that displays this, is equipping underprivileged young girls with digital and computer knowledge through vocational training centres.
All that considered, this article will list the four essential digital skills that young people should develop today:
1. Coding
Coding is a mandatory subject, thanks to India's National Education Policy 2020. The inclusion of said subject allows young people to be well-versed in coding languages such as C, JavaScript, and Python. According to a 2021 Yahoo! Life feature titled 'Do Indian kids need to learn coding?', coding can help individuals automate repetitive manual tasks, create digital solutions, and operate machines. This is why it's become imperative for the country to encourage such capable tech talent and implement coding in the schools' syllabi. Right now, the referenced World Economic Forum report shared that holistic development is being pursued through STEM-based courses. These include resources such as coding applications and utilizing new technologies for programming code evaluation and assessment. By focusing on experiential learning methods, young people can better develop their coding skills and accelerate their path to professional success.
Deepalaya offers a variety of courses to bridge the digital divide through vocational training centers across India and STEM based learning, with a special emphasis on girl child education.
2. Digital Marketing
Because more and more companies globally are prioritizing web advertising and generating online content to resonate with their customers, digital marketing is a critical component in today's professional development. Digital marketing entails knowledge of technical SEO, which can help a website rank high on search engines so a brand can increase its audience reach. Interestingly, many platforms areffering the youth extensive digital marketing courses that are tailored to each individual and their existing knowledge. These include a range of topics such as affiliate marketing, email marketing, funnel management and building, and Google advertising. With such programmes, young people can gain a more thorough understanding of digital marketing and how it can be applied in their future careers.
Deepalaya has been partnering with expert agencies to regularly organize series of learning avenues on digital marketing for our beneficiaries.
3. Social Media Management
Social media can play a vital role in higher education system. A study published in Springer Open states that social media can not only provide excellent e-learning opportunities to students, it can also be beneficial in their career advancement. Today, social media platforms teach young people how to interact with peers and experts and cultivate meaningful connections between brands and consumers. Many Indian startups are dedicated to help individuals harness the power of social media for their professional development. Various government and private platforms offer students physical workshops and meetings with the country's top social media influencers and celebrities. In doing so, the youth can have access to unique industry insights that they can carry with them in their future endeavors.
Deepalaya offers learning opportunities to students from the social development sector and related streams. These students intern with the Communication wing of the Organization to enhance their learning opportunities as per current market trends.
4. Data Analytics
Currently, data science is influencing numerous industries like gaming, manufacturing, pharmaceuticals, and retail. For that reason, a 2022 The Times of India article on data science explains that it has become a promising career path for Indian youth. Data science typically deals with gathering, assessing, and interpreting data to identify trends and understand consumer behaviors. This enables companies to make informed business decisions. That said, data science is a multifaceted area, so young people aren't only limited to a career as a data analyst. Many schools and universities are now offering programmes in Big Data, Business Analytics, and Data Analytics, underscoring the importance of supporting young people's interests in the field of data science.Deepalaya's vocational centers offer lessons on data analytics. Students are trained in effective data processing and management techniques.
The above skills are crucial to learn as they can bring great advantages for Indian youth when it's time to pursue work. Thankfully, young people are currently being provided with the opportunities to develop their talents in digital technologies.
Written exclusively for Deepalaya (www.deepalaya.org)
By Rain Jane