The SAMBHAV Project: Mainstreaming the Differently Abled.
"Everybody is a genius. But if you judge a fish by its ability to climb a tree, it will live its whole life believing that it is stupid." – Albert Einstein
Different Abilities, Not Disability
These are the tenets of our rehabilitation process here at Deepalaya. Children with special needs are overlooked in the sphere of education and policy planning in terms of accessibility and support systems, and even more so when they hail from disadvantaged circumstances. We strongly believe that differently abled children can lead a normal life if they have effective access to services like early symptom identification, intervention, education, vocational training, employment opportunities, and the availability of aids and appliances.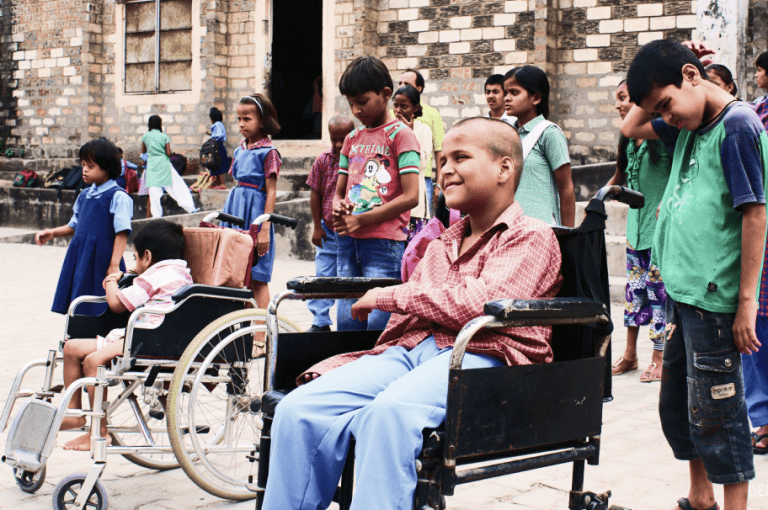 This unit was established in the year 1998-99 and has been adopted by the LajJagdish Foundation founded by Mr. Jyoti Sagar in 2014. The unit was then named the 'Sambhav Project – Mainstreaming the Differently Abled'. The project has worked at grassroots levels to lift the stigma against the differently abled, sensitise the community to their struggles, and provide an environment of empathy and support.
At its core, our belief stays true to our project's name- SAMBHAV. We believe it is POSSIBLE for every differently abled child to excel in life when provided with special care, love and guidance. The project takes care of children with various disabilities like Intellectual Disability, Cerebral Palsy, Down syndrome, Autism, Hearing and Speech Impaired, Muscular Dystrophy and other physical impairments.
Deepalaya stresses holistic development aimed at rehabilitating and mainstreaming them into the general society. We help children perform their daily routine, from sitting, to standing, to wearing clothes and more. They are also provided help in learning the alphabet, reading, writing, recognising, comprehending and responding to communication. The project focuses on a child-to-child approach and participation from children is the central factor. This child-centred approach aims to assist and enrich learning and teaching by making the process participatory and relevant, where children enjoy the journey of their education itself.
In the academic year 2021-22, the Project had 144 new enrolments with 50 girls and 94 boys.
Our Rehabilitation Process
At the time of enrolment,
Each child is assessed by a team of qualified Special Educators, Physiotherapists, Speech Therapists and Occupational therapists.

Based on findings, Individualized Education Plans (IEP) for Special Education, goals for Physiotherapy, and Occupational Therapy are drawn up for each child.
The child is evaluated based on the goals after a defined period. The Unit Head guides and supervises the team (on a one to one basis) to work along these goals.
Other facilities include:
Individual and group programs created by Occupational Therapists in collaboration with Special Educators, caretakers, and parents

Provision of counselling and support during classroom activities.

Day-to-day life skill activities to make them self-reliant.

Speech Therapy is also given to special children so they can express their feelings.

Regular extracurricular classes like sports & games, dance, music, craftwork, painting & drawing, etc. are conducted to bring out the children's hidden talents and to develop their creative skills.
The project caters to around 120 children in two shifts. Most parents cannot send their children to the unit, so we have five vehicles for picking up children from their houses and bringing them to the center.