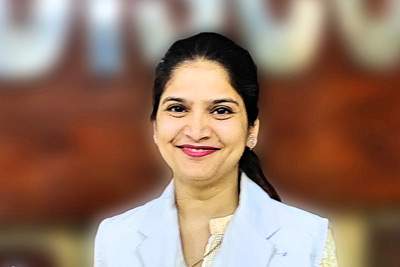 Indira's Resolve to Succeed
Indira's father Nathuni Prasad moved to Delhi from Bihar in search of a job when he was around 18-19 years old. He got a job in a ceramic tiles factory in Okhla Phase 2, Delhi. Shortly, he married Ramdevi and started a family with two sons and a daughter, Indira. 
Life changed for the worse when Nathuni started experiencing pain in his leg. The pain got severe and was diagnosed as a neurological disorder, requiring prolonged treatment. So much so that he lost his job. 
With three children to feed and a husband to look after, Ramadevi had no other option but to start working as domestic help. She sent two of her children Indira and her brother Deepalaya School, Kalkaji Extension, while the third one to a government school. 
Indira was a sincere and hardworking student and was equally good at studies and co-curricular activities. She always participated in dance, music, sports, theatre and drawing competitions conducted at the school and has won many prizes.
In view of the financial issues the family faced, Indira wanted to get to work at the earliest. After completing her schooling, Deepalaya helped her in enrolling for a One year ANM Nursing course from SOS Nursing College sponsored by Shinnyo-EN. In 2008, Indira completed and started working in Apollo hospital, New Delhi. Two years later, she got an opportunity to study in the USA for a one-year Diploma course under Community College Initiative Programme (CCIP) sponsored by the American Centre. Indira completed her Nursing Assistant and Phlebotomy course from Gadsden Alabama Community college.
In 2011, after returning from the USA she joined Apollo Hospital as a staff nurse. She started working as a medical officer in Apeejay Satya University in 2013. She took a six-month break to marry and later started working as a Counselor in Health and Wellness Centre like VLCC, Kaya and many others. 
During the Covid-19 lockdown in 2020, she also faced challenges in her career. Indira, who is now a mother of a lovely son Owasis, needed to advance her career. She is someone who has fought against all odds. She used this lockdown phase to emerge as a leader and an entrepreneur. With the help and support from her husband, she started her own enterprise, Kara Skin and Hair Clinic which is a wellness clinic.