EARLY CHILDHOOD
CARE & DEVELOPMENT
EARLY CHILDHOOD CARE & DEVELOPMENT(ECCD)
There are 20 million children under six years living in poverty in Urban India – at construction sites, streets, and slums. Their parents work for a daily wage without any benefits from employers or social security from the state, or any access to child care, health care, and schools. In their most foundational years, the children suffer neglect, abuse, and deprivation from the essentials of developmental care.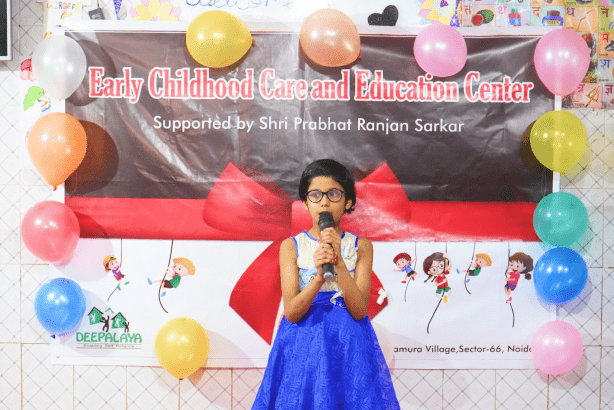 Schooling and pre-schooling are the foundation years for one's career path. But not paying the necessary attention can lead to an extreme underutilization of the intellectual potential due to non-identification and zero mentoring on the skills. No matter who they are or where they come from, "every child deserves access to education".
The program's primary objectives are:
To strengthen the Early Childhood Care and Holistic Development component of the proposed geography through direct intervention by model ECCD Centres, which will help in the successful attainment of Sustainable Development Goals (SDG) # 2,3,4,6 and 10 – building capacity and skill for the Anganwadi Workers from the centers located in the periphery of the model centers focusing on the felt need assessment.
The secondary objectives of the project are:
To strengthen the component of holistic development of the child in their early childhood years.

To fortify the early cognitive, motor skills and nutritional health (including socio-emotional health) status as per with the age-associated development growth by reinforcing interest and concentration.

To enhance familiarity and regularity associated

to

formal education to improve retention and hence drop the education-associated abandonment.

Parent Education and community awareness for overall enhancement in comprehension of education relevance and its linkage with community-associated Water, Sanitation and Hygiene elements.

Preventive awareness on early identification and diagnosis for timely treatment for the community, mainly catering to vulnerable and high-risk groups.